There's a fab giveaway at the end of this post – so be sure to read the WHOLE THING, mmmmkay?!
Can you see the tired in Harper's eyes? It really took all she could do to give me these shots. Her preschool called me on Friday afternoon to tell me she had a low fever, and she wasn't feeling well. My original plan was to take her to our new favorite photoshoot location to get these, but it was obvious that wasn't going to happen. She told me all she wanted to do was go to bed (and that never happens with a 3-year-old!). But once I got her home, she rallied a little bit and went for a walk with me down the street to give it a shot.
The photos could definitely be better on my part, but she did a great job. I just need to learn to make more on-the-fly adjustments in manual mode! Or to not shoot in manual mode! Ha!
Okay, enough about that. Let's talk about this pattern since that is the matter at hand, shall we?
This unique and A-DOR-A-BLE dress is the first pattern released by Jenn of Jennuine Design (affiliate link). But before I tell you about the pattern, I want to talk a little about honesty and pattern reviews.
There's been a lot of chatter lately in the blogosphere about testers writing reviews, affiliates writing reviews, etc. I know that in the past, I have been guilty of giving raving reviews about a pattern even if there were maybe a few things I didn't like about it or I would never wear the style again. But that is going to change. I'm not going to be an ass, but I'm going to say what I liked and didn't like about a pattern. Otherwise, I will simply not review it. We cool?
So why am I bringing that up in the middle of this review? Well, the truth is, I almost didn't join this blog tour – not because I don't like Jenn or think she is a fabulous up-and-coming designer. I simply didn't know if the style suited my taste or if the drop-waist would look good on Harper with her little toddler belly. I told Jenn that, and she showed me one of her tester's photos of her little girl with a similar build. She looked just precious in it, so I joined.
Well, let me tell you. I'm so glad I decided I did because creating this dress not only showed me to think outside-the-box when choosing patterns to sew, but it also showed me just how great the Matinee Dress pattern is!
I chose this fabric simply because I knew Harper would like it. It's a little girly for my usual taste, but I thought it was perfect with the pink eyelet, and I liked the crispness of it (without feeling like a quilting fabric). It was in the children's apparel section at Jo-Ann, and it's by Lisette. And since I was going out-of-the-box with the pattern, I thought, hey, why not?! And I was right, Harper adores it. She spotted it the second she got home from school and couldn't wait to put it on.
And the bow? Ahhh, yes, the bow. I hate big bows on little girls. Errrr, so I thought. I wanted a hair accessory for the shoot, and this was the only one I could find in the little time I had. Much to my surprise, I put it in her hair and loved it. She liked it, too. More bonus points for me!
Okay. The pattern. This pattern is FAB!! Jenn did a great job. You would never know this is her first garment pattern release (she has a hat in her shop, too) based on her thorough instructions, illustrations and pattern drafting. She has her sizes layered (a feature a lot of you are just loving!) so you can only print one size if you want, and the sizing is great. I made a size 2 for Harper, but apparently she has grown since I last took her measurements. Finally, she's in a 3! So if I make this one again, I will go up to a 3 since she won't get much more wear out of this one. I think I'm also just so used to pdf patterns running large, it was super refreshing to work with one that was spot-on.
I constructed the dress exactly as described except for using two buttons on the sash instead of one. I just liked the look of it, and I had four buttons.
Bottom line, this is a great pattern for a great dress that you shouldn't definitely purchase to make your very own. You're going to be seeing a lot of variations during this pattern tour (I'm day one!), so be sure to subscribe to the other blogger's feeds to see all the options. The drop waist is something that I'm not seeing from a lot of other designers (or any?), and I think we're going to be seeing a lot more of it.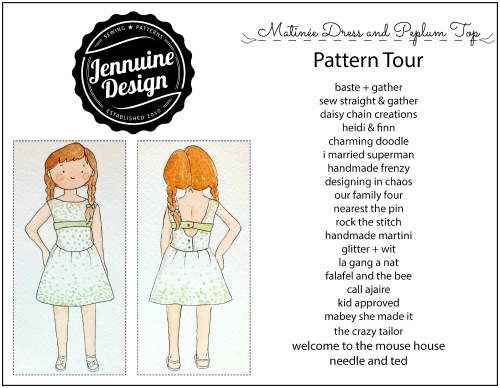 Oh, and what was that I said about a giveaway? What an amazing lineup of stuff you can win!!!
SO DO IT NOW!
a Rafflecopter giveaway