I can't even believe it! FOXGLOVE is live today on Indiesew! It will be offered there exclusively for two weeks, so go buy it and support this growing new venture (and, you know, my business!)!
BUY NOW on Indiesew
Oh, you're not fully convinced that you NEED this pattern? Then let me show you my AMAZING testers' photos. Get ready for an epic post because I had a LOT of fabulous gals helping me to get this pattern just perfect. Be sure to click through their photos to read more on their blogs.
Heidi from Handmade Frenzy takes the featured spot above with her black and white geometric version. She has a ton of great photos on her blog so you can see different views.
Monica of Adirondack Inspired made this woven version of the tank. You have to see the rest of her photos. Gorgeous!
Made by Momma features this lovely, drapey geometric print on her jewel-tone version. Love it!
Deux souriceaux kept it simple (which I LOVE!) with this solid, knit version with topstitching. There are so many ways you can customize this tank!
Teresa of Dandelion Drift…um, can you say gorgeous? This one was done in a lightweight linen with great results. And I just adore her photos.
Juliette of Chickpea Sewing Studio used this super-fun knit from Jo-Ann. She also shows you how she took a little fullness out of hers to give a slightly different, more fitted look. Be sure to check out her instructions on her blog.
Kimberly of The Nest Creations made this sporty version to update her everyday mom uniform. She looks so happy and comfy! And the stripes? Fab!!
Patterns & Projects features this lovely woven version. Oh yes – knits OR wovens for this pattern (in case you didn't already figure that out!). Love the versatility and these great shots.
Nienke from Pienkel is a bit taller, so she lengthened her top according to the instructions in the pattern to get a great result.
Sew Charleston made a couple versions, but I just adore this print on her. Isn't she adorable? You can see her color-blocked version on her blog.
Shawnta from Shawnta Sews made this uber-cute chevron version for her daughter. This is easy-to-do by cutting your fabric on the bias and matching up the stripes!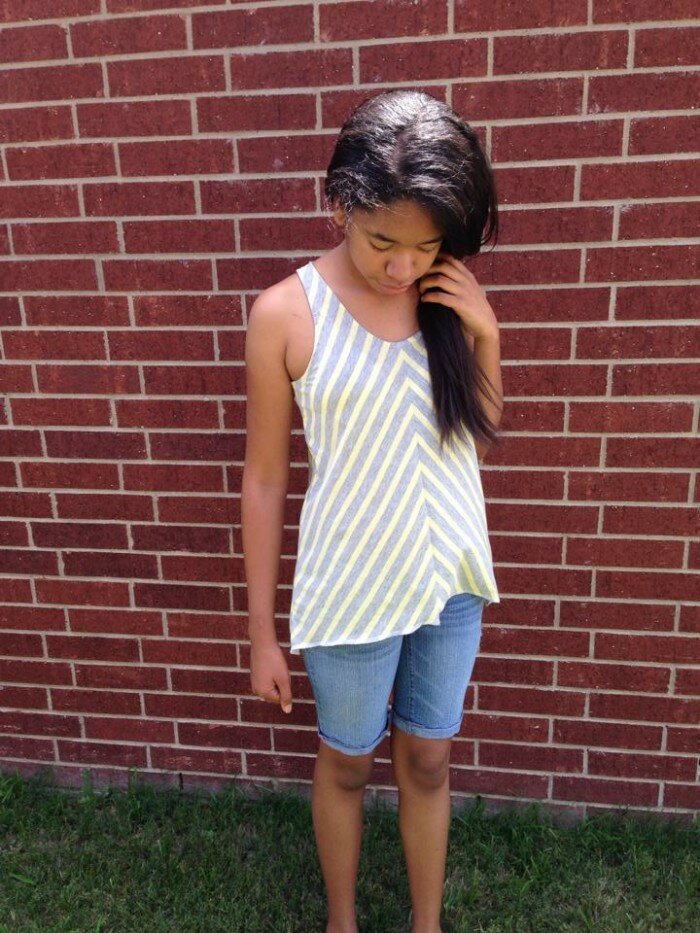 Emily of The Lady and the Gents blocked the back of hers with lace. You have to click through to see her full blog post!
Shannon from Little Luvins made this version out of a brilliant Liberty of London fabric. She lined hers with white lawn to keep it from being see-through. So smart!
The following testers haven't blogged about their tanks just yet, but still be sure to check out their blogs – prepare to get inspired!
Stephanie of Swoodson Says
Rachel from Once Upon a Sewing Machine
Allie of Indiesew
Jodi of Sew Fearless
Linda of Sew Happily Ever After
Jennifer of A Jennuine Life
Maris of Sew Maris
Melissa from Rebel & Malice
Sarah of DIY Interrupted
Marah of Riding the Bonnieway
Nadja doesn't have a blog yet, but she made this fab version!
And finally, a big thanks to Kim, Cecillia and Susanne who don't have blogs but provided great feedback and help in the process.
So, not to get all competitive here, but who made YOUR favorite version of the FOXGLOVE? And how would you style YOURS?! I'd love to hear your thoughts in the comments.