Confession time: I am super self-conscious about my legs. I have always thought them to be too skinny, too pale, too small for my body, etc. etc. But according to my Instagram and Facebook friends, they are looking OK. So, here they are – in all their glory. But this post is about a pattern – not my legs! So shall we?
The pattern is McCall's 6438, and sadly, it is out-of-print. Womp, womp, womp. I can see why it was probably never very popular though because the cover was…well, a bit boring.
I purchased it during one of those $1.99 pattern sales at Jo-Ann thinking that views A and B looked kind of fun. I am one to look at the line drawings instead of the modeled photos, so it's a little easier for me to use my imagination when it comes to patterns.
But before I get into the pattern review, let's talk about these photos. I recently contacted a couple photographers to discuss doing a monthly shoot of several outfits at a time to post on my blog. Their price was reasonable, and their work was fabulous, but when I ran the idea by my husband, he said, "Then why did we buy you all those lenses and camera equipment?! You just need practice." So, I'm practicing.
I like to shoot during golden hour which means my times are limited to JUST after the kids go to bed from around 8-9pm in the summer. And I don't have a lot of time to figure out the best spots or how to work my camera on-the-fly. But, I am practicing…reading lots of tutorials…and trying to learn my camera by reading the manual while lying in bed at night.
For this particular shoot, I decided to break ALL the rules. I used my super wide angle, 12-24mm/1:4 lens, and I coincidentally shot in direct sunlight. I was aiming for the marina at Saltair for these shots, but I missed my exit and ended up in Tooele County. I spotted this old, abandoned lounge as I was making my way back to the interstate, and I thought…hmmmmm…perfect! So I stopped.
Now, I have lived in a trailer park before (long story!), so I can tell you that watching this city slicker take photos of herself in front of a trailer park sign was probably the highlight of the year for the half-dozen-or-so people that were peeking around the corner, pointing and laughing at me. I can only imagine what these people thought I was doing.
Okay, so the skirt. (The top, in case you're wondering, was purchased at Nordstrom Rack. I like it so much that I might try to duplicate it though.)
Instructions
Not sure. I never unfolded them. This skirt was easy enough to figure out without any. It's just two pattern pieces – a waistband and a skirt.
Pattern Pieces
No problems. Everything went together fine, but the skirt is gathered, so that's not super hard to achieve.
Sizing/Fit
I made a size 12 based on the finished garment measurement of 28.5″ for the waist as printed on waistband piece. Now, you guys have seen me list my waist as being 26-27 inches in other reviews, but the truth is, my waist is my problem area and fluctuates from about 26-29″. I use the term "problem area" loosely because I recognize that I am a slender person (no body image issues here, don't worry), but those of you with babies know that pregnancy leaves your body a little…shall we say confused?…in the midsection. It's almost as if my waist has moved up an inch or two in position…and there's this bit of extra skin/fat just under the waistline. Your waistband has to either go above it or below it, but not right on it. I dunno. Do you guys know what I'm talking about?
So anyway, the skirt is pretty darn tight in the waist. It's fine if I'm standing, but it's not so great for long periods of sitting. Since the waistband is so narrow, it digs in a big uncomfortably.
Modifications I Made
I shortened the dress by about 3″ in the front and only 1″ in the back. I like skirts to be a little longer in the back to the butt has a bit more coverage. It doesn't have the effect of a high-low with such a small difference in length since the bottom kind of pulls the back up. I also used an invisible zipper instead of the regular zipper/hook and eye as suggested. And I put it on the wrong side. Oh well.
Things I'd Change Next Time
I really love the overall shape and design of this skirt, but the comfort is lacking a bit. I would like to try making the waistband a little longer (it's just a rectangle shape) and adding an elastic casing at the back so it has some more give. Otherwise, I'll just lengthen the waistband by about an inch and call it a day (with no elastic).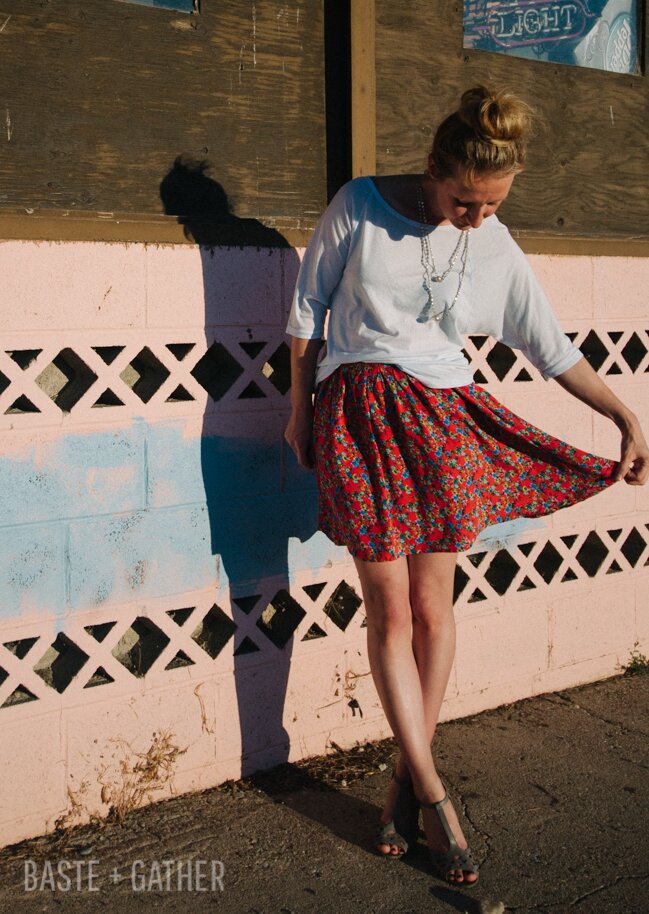 Fabric Choice
Perfect. The fabric is a super flowy rayon challis that I purchased at Nuttal's Fabrics in Murray, Utah. They've been getting some great garment fabrics lately including jersey knits, swimsuit knits and challis. And it's all around $5-7/yard. Can't beat that.
Wearability
It's not super practical for playing with the kids and such, but this skirt is super easy to dress up or down. I like it with this oversized t-shirt and t-strap heels for a date-night look, but I could easily throw on a tank and some Birkenstocks to wear it everyday.
Overall Impression
Love it! I'll be making a couple slight modifications next time, but overall, this is one of my favorite garments currently in rotation.
So what do you think? Am I getting too old to show this much leg?!