If you follow me on Instagram, you probably already know BOTH of my big secrets announcements – but if not (why not?! you should!), I'm here to share with you the first one today.
I have to admit that I'm pinching myself a little bit over this one. If you told me last year at Sewing Summit during the session on working with brands that *I* would be working with Janome less than a year later, I would have laughed at you. And possibly spit my drink, too. But here I am…WORKING WITH JANOME!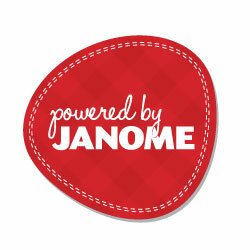 As part of our partnership, I get to demo this fabulous machine for the next year. It's a Horizon Memory Craft 8900 QCP, and you can read more about it here on their website. But don't worry; I'll be telling you all about my experience with it in the coming months. Better yet, I'll be demonstrating all its amazing features with several free patterns/tutorials I'll be creating for the Janome Project Center. *QUEUE JAZZ HANDS*
First impression? BLOWN. AWAY. You know, I've been a Janome girl for a little while now… I LURVE my CoverPro 1000 CPX (coverstitch machine) (like, love it love it…wanna marry it love it), and I bought my MC6500 used a couple years ago. It's been a workhorse, but this new machine just really takes it up a notch. Can we talk for a minute about how happy I am to have a free arm again?! I had workarounds for small circumference sewing, but girls…(and one guy – thanks, reader survey!), I am so happy to not have to use those anymore. It's the little things, right?
I know, I know…the free arm is such a minor feature on such an awesome machine. I can't even begin to tell you about it all. But stay tuned. I will. (I need to learn it all, first!)
Ahhhh…such a pretty girl. I just love her.
My first free pattern as part of this partnership will debut next month (with some others planned in the meantime, too!), so if you aren't already a subscriber, head to Bloglovin' and take care of that real quick like. I wouldn't want you to miss anything!
Next week, I'll be sharing big announcement #2. Are you ready? It's big! Really big!! (Hey, you Instagram subscribers, shhhhh! No spoilers here!)